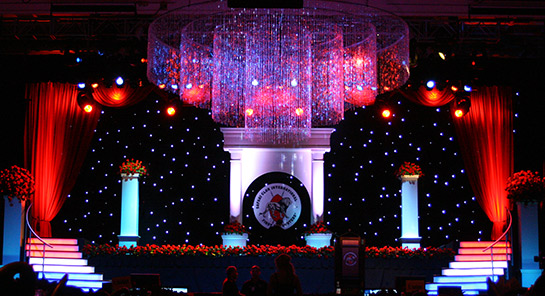 Safari Club International
This year, we were again pleased to build stage sets for Safari Club International's dinners and auctions, which ran in conjunction with their 39th Annual Convention, in Reno. The dinners and auctions at the Peppermill Resort Spa Casino and are always an extraordinary event to be a part of.
The stairs have opaque risers with DMX Controlled LED bar lights inside, for some great lighting effects. The LED star field background served as the backdrop for the changing sets each night. 5000 fresh cut Red Roses were used throughout the room on the 350 tables, with about 1500 of those being arranged on the stage, which played well with our red valance and legs. We custom built the stairs, pillar sets and chandelier which was 20 feet in diameter and was made of over a mile of crystal beads!
We were happy to be able to provide such a striking stage for Safari Club International. They are a great organization that we are privileged to have the opportunity to work with.